DON'T PANIC: The Next Recession is Looming
The industry has been buzzing this past week with some new forecasts from economists. Before you grab your towel and head to the next closest star system, we're breaking down what a recession could mean for the housing markets both here in Boston and nationally.
What Defines a Recession?
A recession is two consecutive quarters of GDP (Gross Domestic Products) slowdown. The recession that most people have in the forefront of their minds is the 2008 recession that was caused by the housing market, but we have had seven recessions in the past 45 years, and SIX of them were completely unrelated to housing.
When Will the Next Recession Hit?
Economists and analysts know that the country has experienced economic growth for almost a decade. They also know that a recession can't be too far off. A recent report by Zillow Research shed light on a survey conducted by Pulsenomics in which they asked economists, investment strategists and market analysts how they felt about the current housing market. That report revealed the possible timing of the next recession:
"Experts largely expect the next recession to begin in 2020."
That timing concurs with a recent survey of economists by the Wall Street Journal:
"The economic expansion that began in mid-2009 and already ranks as the second-longest in American history most likely will end in 2020 as the Federal Reserve raises interest rates to cool off an overheating economy, according to forecasters surveyed."
Here is a graph comparing the opinions of those surveyed by both the Wall Street Journal and Pulsenomics: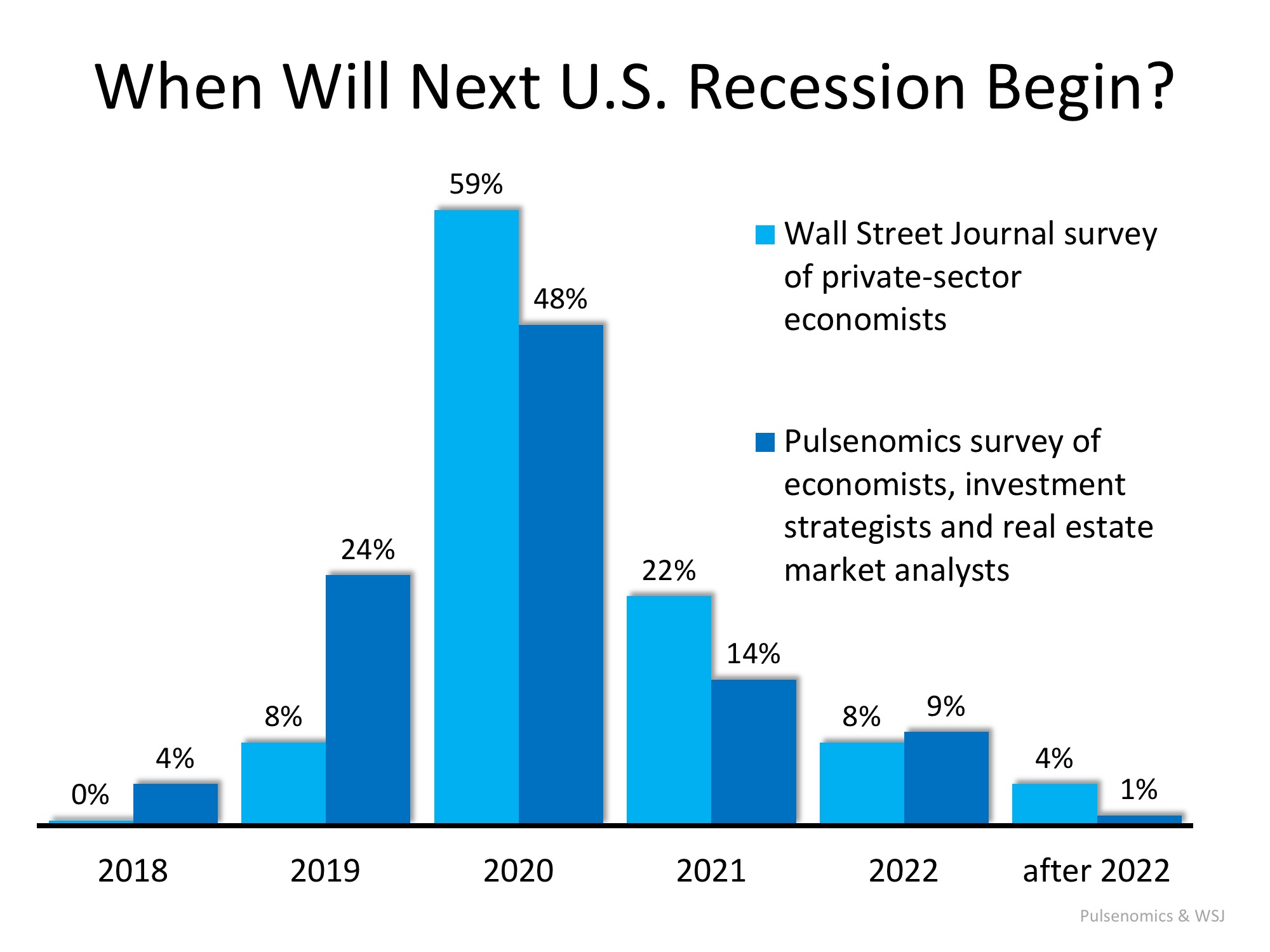 Recession DOES NOT Equal Housing Crisis
A recession means the economy has slowed down markedly. It does not suggest we are experiencing another housing crisis. Naturally, the housing crash of 2008 caused the last recession. However, during the previous five recessions home values appreciated.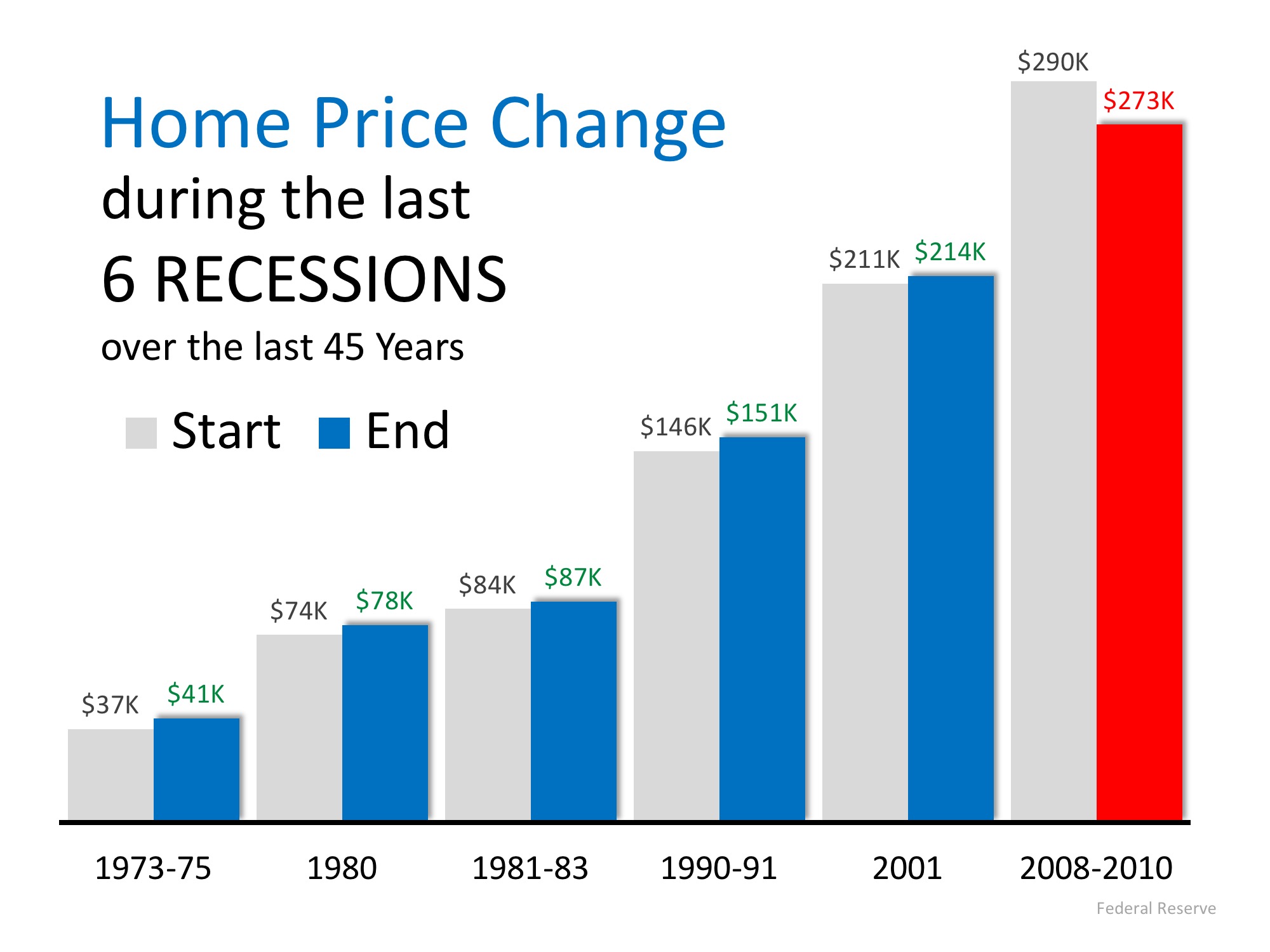 According to the experts surveyed by Pulsenomics, the top three probable triggers for the next recession are:
Monetary policy
Trade policy
A stock market correction
A housing market correction was ranked ninth in probability. Those same experts also projected that home values would continue to appreciate in 2019, 2020, 2021 and 2022.
Others agree that housing will not be impacted like it was a decade ago.
Mark Fleming, First American's Chief Economist, explained:
"If a recession is to occur, it is unlikely to be caused by housing-related activity, and therefore the housing sector should be one of the leading sources to come out of the recession."
And U.S. News and World Report agreed:
"Fortunately – and hopefully – the history of recessions and current issues that could harm the economy don't lead many to believe the housing market crash will repeat itself in an upcoming decline."
What Should I Do Right Now?
You may remember a previous post where we mentioned that Boston is currently working in an active "dual market" of first time home buyers and Trade-ups. The premium/luxury market is neutral to declining. Luxury homes are slowing with inventory going up. In fact, there is 11% more inventory that demand in the high-end market.
There is an opportunity for a seller who is in the middle market to trade-up to the luxury market, and you might score a pretty decent bargain for your investment.
If you are a luxury homeowner, the price needs to be just right to sell your home at the quick pace the rest of the market is experiencing.
Some Things to Remember (TL;DR)
A recession is probably less than two years away. A housing crisis is not.
For Boston homeowners, the last recession affected pricing by about 10%, but previous years the pricing increases were in the double digits, and we were one of the first economies to recover. No need to panic.
There is an opportunity now to position yourself for the inevitable recession. Ask us how!
Parts of this article originally appeared in Simplifying the Market.