Focus Guest Artist for September: Carol Johnson
September 1st coincides with JP First Thursday this week! Please join us from 5pm-8pm as we open our office doors and welcome mixed media artist, Carol Johnson.
Here's a few words from the artist herself:
"Art is my life and passion. I create art with varied forms, themes, concepts and images that relate both to the external and internal world. My artwork is emotional, symbolic, intimate, atmospheric and dreamlike. I often put images together that you would not necessarily see together in the physical world but to tell a story about what may be just below the surface of things. I draw, paint, sculpt and make mixed media art. Line, form, texture and color are often important elements in my work. My inspiration emerges from day to day living and images expressed both in the conscious and unconscious. My imagery tends to be abstract yet recognizable.
Much of my recent art work has been mixed media. I often make my own handmade recycled paper with elements from nature eg. Flower petals and other natural found materials. I have been making many variety work on my handmade recycled papers with collage, india/sumi/acrylic ink, acrylic, watercolor and oil stick paints, fabric. I create works with found materials and objects/assemblages. The imagery relates to personal emotion, memories and feelings; social, political and environmental issues at times. My need and urge to rise above, to understand, to express what is personally, individually and on a broader scale experiences by others. I am at times influence with the internal; other times influenced by the complicated world that we live in to today. I express what I see, experience and express what I believe can be. My intention is to inspire not just myself but others including local and global communities."
Carol's art will be on display in our office at 34 South Street in Jamaica Plain through the end of the month. To learn more about Carol, please visit jpaa.org.
Jamaica Plain Open Studios
September in Jamaica Plain is going to be jam packed with even more art! Focus Real Estate is a proud sponsor for Jamaica Plain Open Studios. Look for Open Studios banners on stores and spaces throughout JP on September 17th & 18th to discover great works by local artists. You can also visit their site and download a PDF map of all the places around town that are participating in this amazing event.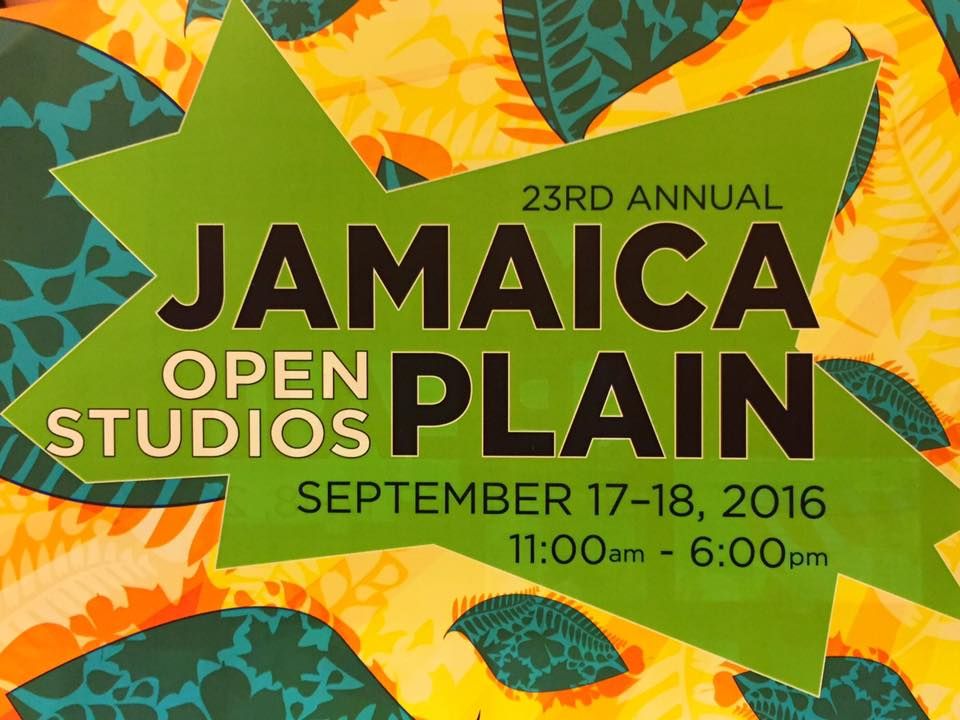 ---
About Focus Real Estate's Guest Artist Program:
We firmly believe that we are Jamaica Plain community members first, and business owners second. Our goal is to host local artists and craft artisans in our space every month to help broaden our reach in the town that we love. We are actively searching to host future artists. If you know anyone that would be interested, please have them email us!