Moving in 2018: What will it cost?
We've been saying time and time and time again, that you should make a move now. For home buyers, interest rates are still at record lows. For home sellers, inventory is low and pricing in Jamaica Plain, Brookline, and other surrounding towns are slowly growing in price. Now as we look at the horizon of 2018, what should you expect?
Over the course of the last 12 months, home prices have appreciated by 7.0% nationally. In the same amount of time, interest rates have remained historically low which has allowed many buyers to enter the market. We also took a look at fourth quarter data so far in Jamaica Plain and compared it to the fourth quarter in 2016. Condominiums increased in average price by 16% and single-family homes increased by 2%.
As a seller, you will likely be most concerned about 'short-term price' – where home values are headed over the next six months. As a buyer, however, you must not be concerned about price, but instead about the 'long-term cost' of the home.
The Mortgage Bankers Association (MBA), Freddie Mac, and Fannie Mae all project that mortgage interest rates will increase by this time next year. According to CoreLogic's most recent Home Price Index Report, home prices will appreciate by 4.7% over the next 12 months.
What Does This Mean?
If home prices appreciate by 4.7% over the next twelve months as predicted by CoreLogic, here is a simple demonstration of the impact that an increase in interest rate would have on the mortgage payment of a home selling for approximately $250,000 today: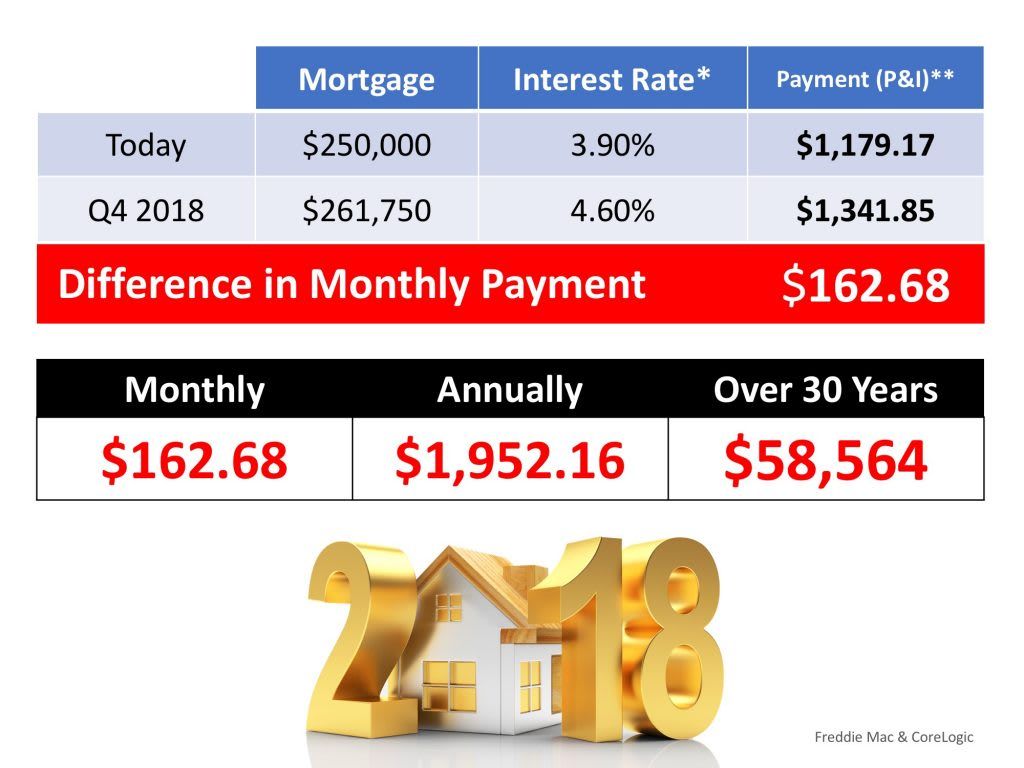 Bottom Line
If buying a home is in your plan for 2018, doing it sooner rather than later could save you thousands of dollars over the terms of your loan.
Parts of this article originally appeared in Simplifying the Market.
Sometimes, it's easy to get caught up in the moment when you attend an open house or ...