Stay Focused S2 Ep12: Instant Home Value Through Staging
This week Erik and Randal are talking about staging. Not only does it make your home looks more inviting to potential buyers, but it can add INSTANT value! Check out the infographic below the video to see the stats and breakdown on your return on investment through home staging.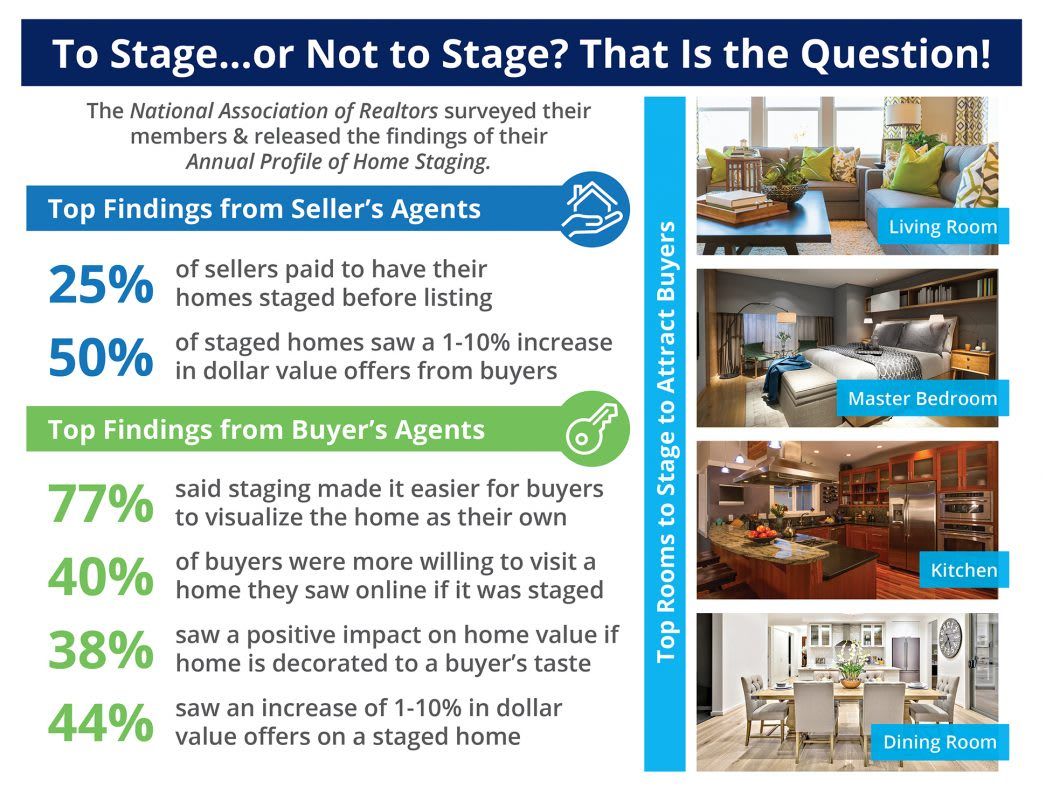 TRANSCRIPT:
Erik:
Welcome back to Stay Focused, Focus Real Estate's weekly video blog. And I'm Erik Gould.
Randal:
I'm Randal Engelmann.
Erik:
And this week we'd like to chat about Staging.
Randal:
We don't want to just talk about staging. We've talked about staging before actually. We want to just show you the
difference that staging can make. We're here today in a unit that was staged. It's a smaller unit. A lot of people
think that "Oh my house isn't worthy of being staged." or "It's not big enough." or "It's not special enough."
Erik:
or "It's not worth it."
Randal:
But really, is your house worth an increased value between six and twenty percent? The national averages are somewhere between there for staged homes. [That's] something we pulled from the National Association
of Realtors. Do you think your house could use an extra six to twenty percent in sales price? You probably could.
Erik:
And in this seller's market, a lot of sellers think: "Do I need to stage? My house is gonna sell. It's gonna sell quickly anyway. Why do I need to stage?"
Randal:
It shows better. Really, it helps people to be grabbed a little but more emotionally when they're coming to your house.
Erik:
And as you always say!
Randal:
Make me another cocktail? Wine? I know, we're selling a lifestyle.
Erik:
Exactly.
Randal:
We're selling lifestyle here and if we can grab the buyer emotionally that usually results in a higher price.
Erik:
They can see how they can live in the space.
Randal:
We're just standing here, of course, you're seeing in the kitchen in the background, but we're gonna pan to is some other areas throughout the house. We're gonna do some before and afters. Most people that it a house shows larger with furniture in it. I actually believe that's true. I've actually seen myself react completely different...
Erik:
...with the right furniture.
Randal:
Yeah. With the right stuff...
Erik:
... and done well.
Randal:
Absolutely. Can I tell my favorite story about staging?
Erik:
Go right ahead.
Randal:
I don't want to make this too long, but we actually had a really fun instance happen two years ago. We were selling three properties at the same time. All three properties, hot market, all empty, all vacant. Our first client called us and said, "Randal, what do we need to do to get this sold?" I said, "I think we need to stage it. I know we need to stage it." The space is a little odd. It'll help define it. So he bit the bullet, got the staging. We sold it in within the first week after it was staged. It worked so well that we thought we'd call our other client and say, "Hey, would you like to split the cost of the staging with this guy and a little small fee to move the furniture over?" "Great!" Move the furniture to the second listing. Same furniture, different house. Sold in the first week.
Erik:
Different buyer?
Randal:
Different buyer, yeah.
Erik:
Same furniture.
Randal:
We actually took that furniture and moved it to yet one more place.
Erik:
And and that's sold immediately after the moment it was furnished and staged.
Randal:
We've seen this time and time again even when we were dealing with slower markets in the past to make that jump in stage, we always made that that transaction happen much faster. Grab that buyer emotionally and really secure a good transaction.
Erik:
So kitchen? Living rooms, kitchen, and master bedroom are the most important rooms.
Randal:
You know, until we saw those statistics we didn't really pay much attention to those master bedrooms and believe it or not, that master bedroom is important.
Erik:
It's lifestyle again. Where people spend most their time.
Randal:
What do you think are the most important rooms to be staged when you're looking through open houses or when you're viewing property online? I don't know! These are national averages we're talking about. It's always kind of interesting to see locally what people that are looking here find most important.
Erik:
Comment below what rooms you think are important and what you think of what we just showed you here.
Randal:
Hey everybody, thanks for watching today. Don't forget to comment below and like us on Facebook.
Erik:
And subscribe to our YouTube channel.
Randal:
And until next time...
Both:
Stay Tuned and Stay Focused.