Things To Do: Memorial Day Weekend 2017
It's the semi-official start to the summer! We compiled a list of things to do in and around Jamaica Plain and West Roxbury for your three-day Memorial Day weekend.
---
It's officially open! Focus Real Estate is located right next to the library it's it's been fascinating watching the renovation progress. After being closed for three years, the JP branch of the Boston Public Library held its grand opening last weekend. Go and check out the $10 million restoration for yourself.
Jamaica Plain Public Library is located at 30 South Street, Jamaica Plain, MA 02130. Image: JP Library Facebook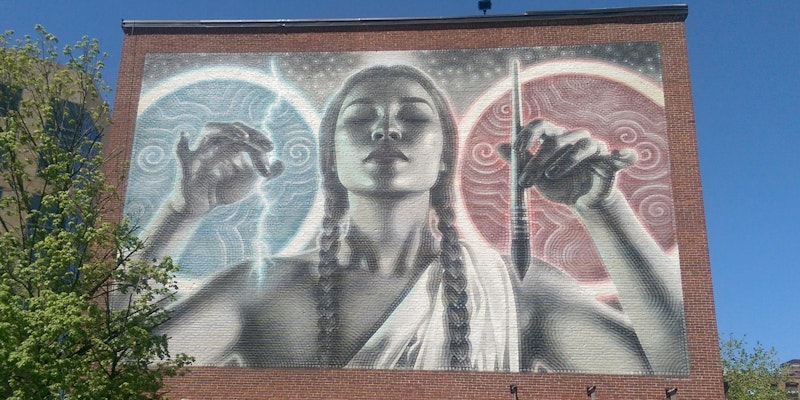 On Saturday, 5/27 at 2:00 enjoy a three mile stroll while you check out some of the art on Boston's streetscapes. You start at Huntington Ave in Boston and end up in JP's Canary Square. From works by Shepard Fairey to murals favored by Justin Beiber, you'll see art on a grand scale. Purchase tickets on Eventbrite first!
Boston Street Art and Graffiti Walking Tour starts at Starbucks at 273 Huntington Avenue, Boston, MA 02115. Image: Rob Larsen
After taking a year off, the popular three-day music festival is back. The change in venue to the Harvard Athletic Complex in Allston means more bands, more stages, more acts, more food and more more! Besides headliners such as Chance the Rapper, Tool, and Mumford and Sons, they are also adding a stand-up comedy aspect with Eugene Mirman, Hannibal Buress, and Tig Notaro. Make sure you check out all the food options! Boston.com reported on the "it" meal to try.
Boston Calling is located at the Harvard Athletic Complex 65 North Harvard Street, Allston, MA 02134. Image: Boston Calling
If you're not up for the crowds of Boston Calling, The Boston Pops will perform the score to the original blockbuster film, Jaws, as the film is played. Thursday 5/25 and Friday 5/26, conductor Kieth Lockhart will lead you through all the suspense and chills of the Martha's Vineyard set thriller.
Symphony Hall is located at 301 Massachusetts Avenue, Boston, MA 02115. Image: Boston Symphony Orchestra
The USS Constitution Museum is hosting a weekend-long exhibit dedicated to those that served aboard "Old Ironsides". Read about the times and struggles during the War of 1812 and how we can learn from it today. The Museum is also partnering with Operation Gratitude this weekend. Help them create paracord "survival" bracelets that they will send to troops overseas and US first responders. After the museum, head over to the beautiful lady herself for a tour of the historic ship.
The USS Constitution Museum is located Charlestown Navy Yard, Building 22, Charlestown MA, 02129. The USS Constitution is located at 1 Constitution Road, Charlestown, MA 02129. Image: USS Constitution Museum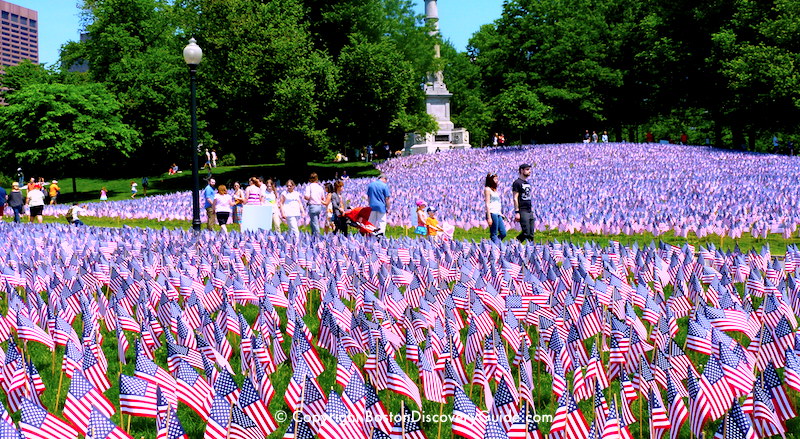 Each year, the Massachusetts Military Heroes Fund "plants" 37,000 flags at the Soldiers and Sailors Monument in Boston Common. Each flag represents a Massachusetts soldier that gave their lives to protect our country since the Revolutionary War. You can volunteer to help, sponsor a flar, or simply visit to take in the beautiful sentiment.
Boston Common is located at 139 Tremont Street, Boston MA 02111. Image: Boston Discovery Guide
On Monday 5/29 at 9:30 am, head to The Garden Cemetary to hear guest speakers Mayor Walsh, Senator Rush and Juliette Kayyem, former assistant secretary of Home Security, share their thoughts as they remember our veterans. This is a wonderful tradition in West Roxbury and brings out the true meaning of the holiday. Attendees will also hear a performance by the Commonwealth Brass Quintet and following the services they are welcome to a breakfast.
Gardens of Honor Veterans Corner is located at 670 Baker Street, West Roxbury 02132. Image: Garden Cemetary