A Quick Review of Covid-19 legislation for Boston property owners and renters
A Quick Review of Covid-19 legislation for Boston property owners and renters
With the constant changing news, updates and legislation it is difficult to keep track of what is currently happening and permitted during these unprecedented times. With that being said, we thought we'd provide a brief overview of some of the policies that affect homeowners, landlords and renters:
The CARES Act
Federally backed home loans forbearance - The CARES Act permits borrowers with federally backed residential mortgage loans to request a forbearance from making payments for up to 180 days, with the ability to request an extension for an additional 180-day period. Contact us for more information on what qualifies as a federally backed home loan.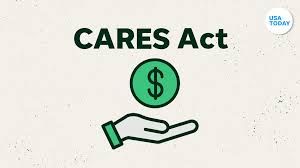 Multifamily Mortgage Relief - Multifamily borrowers with a federally backed multifamily mortgage loan experiencing financial hardship due, directly or indirectly, to the COVID-19 emergency may request forbearance. In order to qualify, an owner of multi-family housing must: (1) maintain a fully performing multi-family loan with either Freddie Mac or Fannie Mae; (2) demonstrate financial hardship due to COIVD-19; and (3) obtain lender approval.

MORATORIUM ON EVICTIONS - Certain "Covered Properties" are prohibited from serving a notice to quit or commencing new eviction cases through July 25, 2020. This law ONLY applies to Covered Properties, which include the following:

• Supportive housing for the elderly (12 U.S.C. § 1701q)

• Section 811 Housing for People with disabilities (42 U.S.C. § 8013)

• Housing opportunities for Persons with AIDS (HOPWA) (42 U.S.C. § 12901) • McKinney-Vento Act Homelessness programs - 42 U.S.C. § 11360)

• HOME - National Affordable Housing (42 U.S.C. § 12741)

• Multi-family Mortgage Credit Programs

• Public Housing (42 U.S.C. § 1437d)

• Section 236 Multifamily rental housing (12 U.S.C. § 1715z-1)

• Section 8 Low-income housing assistance voucher program (42 U.S.C. § 1437f)

• Rural housing assistance under Section 542 of the Housing Act of 1949;

• Low income housing tax credit program (LIHTC) (26 U.S.C. § 42)

• Section 221(d)(3) Below Market Interest Rate (BMIR) housing (42 U.S.C. § 1715I(d))

Rental Relief - Furnishers to credit reporting agencies (like apartment firms, credit card companies, etc.) who agree to modified (rental) payments with respect to an obligation or account of a consumer that has been impacted by COVID-19, must report such obligation or account as "current" or as the status reported prior to the accommodation during the period of accommodation unless the consumer becomes current.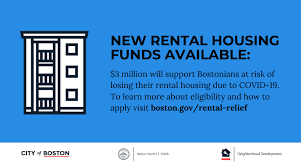 Agreement for Home Loan Forbearance by 12 Massachusetts lenders
12 lenders have agreed to offer homeowners with at least three months of deferred mortgage payments if they can demonstrate they have been financially impacted by the public health crisis.
The lenders are: Bank of America, Boston Private, Cambridge Trust Company, Century Bank, Citizens Bank, City of Boston Credit Union, Dedham Savings Bank, Eastern Bank, Mortgage Network, Inc., Prime Lending, Salem Five Bank, and Santander Bank.
The lenders will not charge late fees, or report non-payments to credit bureaus. As part of the agreement, the homeowners won't be made to pay the deferred mortgage payments in a lump sum, but rather the financial institutions will work with the homeowner on securing affordable repayment plans.
On April 16th Massachusetts passed a law extinguishing the rights of property owners to access the Courts to resolve disputes.
Among the provisions of the new law are:
Prohibits landlords of residential dwelling units, for non-essential eviction actions, from terminating tenancies or sending notices to quit

Prohibits landlords from imposing a late fee for non-payment of rent or furnishing data to a consumer reporting agency if, within 30 days, the tenant provides notice and documentation to the landlord that the non-payment was due to a financial impact form COVID-19

Allows landlords to utilize last month's rent to pay for expenses if the landlord notifies the tenant in writing. However, landlords still must provide tenant's with the same interest that would have accrued if the landlord had not utilized last month's rent and prohibits landlords from deducting money from the last month's rent for any non-payment of rent.
City of Boston Permitted Construction Sites
On March 16th the Mayor announced that the City of Boston ordered non-essential construction permitted by the City to pause and be locked down until further notice.
Commonwealth of MA order closing all essential businesses (March 23rd and extended March 31st)
While the closing of most non-essential businesses directly affects homeowners in their daily life, for the most part it does not affect their daily use of their home. This order applies to all forms of lodging (hotels, motels, inns, bed and breakfasts) and short-term residential rentals including those arranged through on-line hosting platforms such as (Airbnb or VRBO) and only allows for the operation of any type of short-term lodging (less than 31 days) under specific circumstances. Thus if you're operating AirBnB, you may not be able to rent your property during the time of the closure.
FACEMASKS - On April 3rd the Centers for Disease Control issued guidance on wearing facemasks. Anyone who needs to be outside of their home is encouraged to wear a face covering and practice social distancing. If a person is sick, yes, a face covering should be worn at all times when outside. People who have COVID-19 must stay home and only leave for essential medical care or to get basic necessities such as groceries.
If you have any questions regarding any of these, please let us know and we will see what we can do to connect you with a proper legal, medical or public health professional to answer any additional question that you may have.
Please be safe and let's all support each other's health.