How to "Get A Deal" During a Seller's Market
We were recently working with a buyer who said that they wanted to get a "good deal" on a house. This isn't all that unusual, since we don't know of any buyer who wants to feel like they "paid too much" for their house.
But the dilemma for the buyer looking to get a deal and the agent trying to help them comes when we have a market like we have had for most of the past 8 years. That is, we have seen very low inventory and high demand during this time, creating steady increases in housing prices. In this market, most houses generally sell close to their asking price and oftentimes even well above. In all of Boston in the past 12 months, single family homes sold on average for 100% of the asking price. Condos were close at 99% of the asking price. Of course some properties sold well under and some well above and there is some variation by neighborhood. However, the majority of properties are selling near or above the asking price.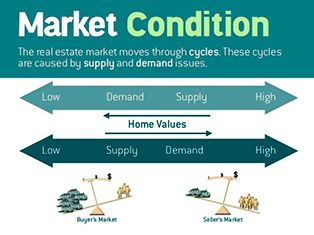 As real estate professionals, many of us have become experts at negotiating; taking negotiation classes and practicing honing our negotiation skills in order to help our clients get the best deal possible. However in this market it isn't the negotiating that gets you a deal, it's more likely relying on your agents skills and help in other areas.
Here are a few tips:
Look for properties that others might or have overlooked for some reason, Like properties with bad photos, or a place that needs some cosmetic work. Especially look for things that you can change (like the aesthetics, paint, etc.) and not things that you can't easily impact (like location, size, style, layout, etc.). One way to look for overlooked properties is to have your agent send you houses that have been on the market for a while or for expired, withdrawn or canceled properties.

Do your homework and know what similar properties in the same neighborhood have sold for. Have your agent do a market analysis on any interested properties and take into consideration when they sold and what the competition for that property is now.

Be the first to the draw - try to get in to see a new property before other buyers do and be ready to place a strong offer that hopefully the seller will entertain their offer before any others. We have recently been successful with a number of buyers with this and the buyer's know that they're getting the house for less than what they would if there had been a bidding war.

In the Boston area, we always see less buyer demand in the Fall/Winter, thus less multiple offers. Don't wait until Spring market with all of the other buyers and increase your chances of a bidding war.

Remember that looking back at prices 12 months earlier, it almost always looks like everyone got a deal at that time compared to today's prices. Even though they probably felt like they overpaid at the time. Keep your ultimate goal of homeownership and time in perspective.

Sometimes just getting the property that you want can be a "win" when there is a bidding war with multiple offers. If your offer was the winning one, be grateful and don't look back and question what you paid.