Local Focus - A Girl Scout Extraordinaire
When Jamaica Plain Girl Scout Stella Trumble contacted us in February, little did she know that she just landed her largest cookie order of the season. That's because Focus Real Estate is an avid supporter of local youth programs like the Scouts.
"Her timing was impeccable," says Focus Co-Owner/Team Leader Randal Engelmann. "It was a great opportunity to help local youth groups that we know have had a difficult time with fundraising during the pandemic."
Stella, of course, was gracious and grateful. She is an 8th grade student at Boston Latin Academy. Stella joined the Girl Scouts when she was in kindergarten and has been active with the Scouts ever since. Her troop includes 10 other girls, many of whom have grown up with Stella and have become her best friends. Her mom is the troop leader.
Stella's mom is especially proud of how Stella has embraced the diversity aspect of the troop, as there are girls of different races and learning abilities. "Despite our differences, we always find some way to make Scouting fair and exciting for everyone," Stella says.
Although the usual door knocking and local cookie selling activities have been difficult due to the pandemic, Stella succeeded in selling an astonishing 1,200 boxes of cookies. Overall, the troop sold 4,200 boxes. Focus purchased enough cookies to deliver a couple boxes as thank-you's to nearly 75 clients.
"Cookie season is always a time when our troop works together to sell a lot of cookies," mentions Stella. Cookie sales help fund many of the troop's trips, activities and community service events.
"With our cookie earnings, we have been able to travel quite a bit over the years to Mystic, CT, New York City, Washington, DC and Rocking Horse Ranch, NY," she says. In the future, her troop hopes to go to London to stay in the Girl Scout World Center where Girl Scouts from throughout the world come to visit.
Scout activities have clearly contributed to Stella's confidence and sense of accomplishment, as her badge-filled vest attests. "By being a Girl Scout, I have learned how to build fires, set up tents, go boating, biking and so much more," she proudly reports. "I am really hoping that our whole troop can get together in person soon because we haven't really gotten to do that for the past year and a half and it will be great to see them again."
In the meantime, Stella hopes to work this summer at a studio to further develop her art skills. Budding entrepreneur that she is, she also plans to expand her local dog walking business. And she'll probably place another call to Focus next cookie selling season. We all enjoyed meeting Stella and look forward to continuing to support youth leadership and development programs like the Girl Scouts.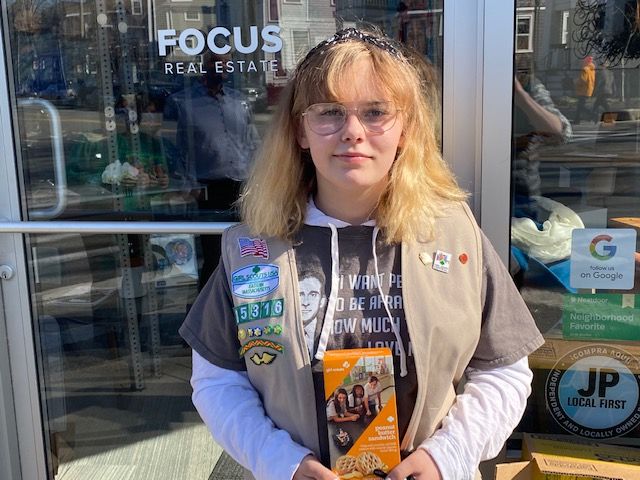 .