Visiting Artist in JP - Nancy Marks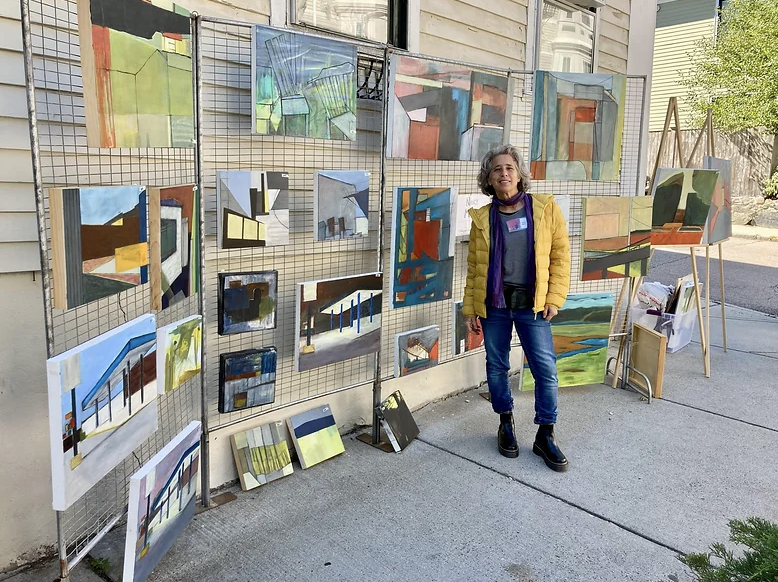 WDiscover Urban Abstraction: "Nancy Marks" at Focus Real Estate's JP Office

Elevate your artistic journey by visiting Focus Real Estate's Jamaica Plain office, where we proudly feature Nancy Marks' evocative art until September 19th. Immerse yourself in the captivating world of "Urban Abstraction," a collection that explores the intricate dynamics of city life. Join us Monday through Friday, 9 am to 5 pm, for an unforgettable artistic experience.
Artist's Narrative
Nancy Marks, a mixed-media artist with a painting and printmaking background, delves into the essence of urban landscapes. Her collection, "Urban Abstraction," unveils the interplay between constructed spaces and human connections. Inspired by her New York roots, Marks' work poses questions about community and separation.
Soulful Dialogue
"Dialogue/Interpretation" delves into emotional landscapes, bridging nature and abstract feelings. Marks' creations resonate with the human spirit's healing journey, merging the tangible and intangible in profound ways.
Impactful Initiatives
Marks' commitment to narrative art for social change shines through "The Opioid Project." In partnership with Dr. Annie Brewster, this initiative challenges substance use stigma and supports addiction prevention, education, and treatment. Learn more at theopioidproject.oncell.com.
Art as Healing
"The Intimacy of Memory" honors the significance of objects after losing a loved one. Marks' blend of public health expertise and art creates a space for remembrance and healing.
Engage with Your Community
Join us at 34 South Street, JP, to celebrate Nancy Marks' artistry. Explore "Urban Abstraction" and embrace the spirit of community. For expert real estate advice and a free consultation, contact us at 617.676.4082. Focus Real Estate is your partner in art, community, and real estate exploration.
Our team of experienced real estate agents is here to help you every step of the way, whether you're buying, selling, or just looking for information.
Find Your New Home
If you're in the market for a new home, be sure to check out our current listings
What's Your Home Worth
If you're interested in finding out the value of your home.